having spent the last few months clawing my way slowly back to functionality — through the vasty medical wastelands of headaches, dizziness, incompetence, frustration and profound boredom — I'm pleased to report that I am mostly back in action. Thankfully, without any discernible permanent damage, and with a renewed sense of wonder at the human brain and its mysterious workings. I ran up against many internal walls, dodged many emotional bullets, battled phalanxes of pain demons, and did a lot of yoga. All's well that mends well. I'm so grateful for all the support I had from family, friends, colleagues, strangers; I'm so thankful for having had a life-changing experience without it actually changing my life irreparably. Onward and upward: to more interesting things! Here is a very esoteric smattering of interesting things from past, present and near future.
future
The Digital Public Library of America is launching next week in Cambridge MA. literally, the 21st century Library of Alexandria is being born five minutes from my house.
Malaysian elections are Imminent & I foresee an enfranchising sojourn to the Malaysian embassy in NYC in my very near future.
present
I've been lurking around/taking part in the tremendous Snarkmarket Seminar, a "year-long, self-assembling digital seminar" on every conceivable aspect of new media: games and storytelling, coding, digital activism, memes, virtual and physical space, online identities, books and non-books, gift economies, impossible archives… It is, as all good humanities courses do, throwing open all sorts of mental doors: I've been exploring literatures, ideas, media and conversations I could never have had otherwise, and I'm so thrilled to be part of it. This week's seminar, led by the inimitable Matt Thompson, is on worldbuilding, and, as homework, compelled me to become bizarrely absorbed in what is essentially a deconstructionist's RPG. (Derrida really didn't know what he unleashed). Stay tuned for the hashtag.
speaking of the avant garde, via @boingboing, here is a mesmerising, truly 21st century piece of art by David Hirmes: a Borgesian Aleph for our brave new world, full of pity and wonder. Books & tweets, chewed up algorithmically, mashed together and spat out in an infinite scroll of text. I saw that it was strange and beautiful.
an oddly analogous exhibit is currently on at the SF MOMA: Christian Marclay's The Clock, a 24-hour montage of video footage of clocks, each clock image corresponding to the time of its appearance in the mash-up. The New Yorker has its characteristically protracted, erudite meditation here. Both these are fascinating — as though the digital age is enticing us to unbind the codex we strove so hard to bind — as though we are rediscovering and reinventing the ancient art of the scroll, unrolling it into a most modern infiniteness.
while on the subject of exhibitions, there are two tremendous exhibits of Islamic art presently on display in the Harvard Arthur M. Sackler museum's teaching galleries — including this piece from Firdausi's Shahnama, into which my brain and I spent some time last month dissolving blissfully. If you are in the area before the summer, do not shirk your Duty to partake. you will not regret it.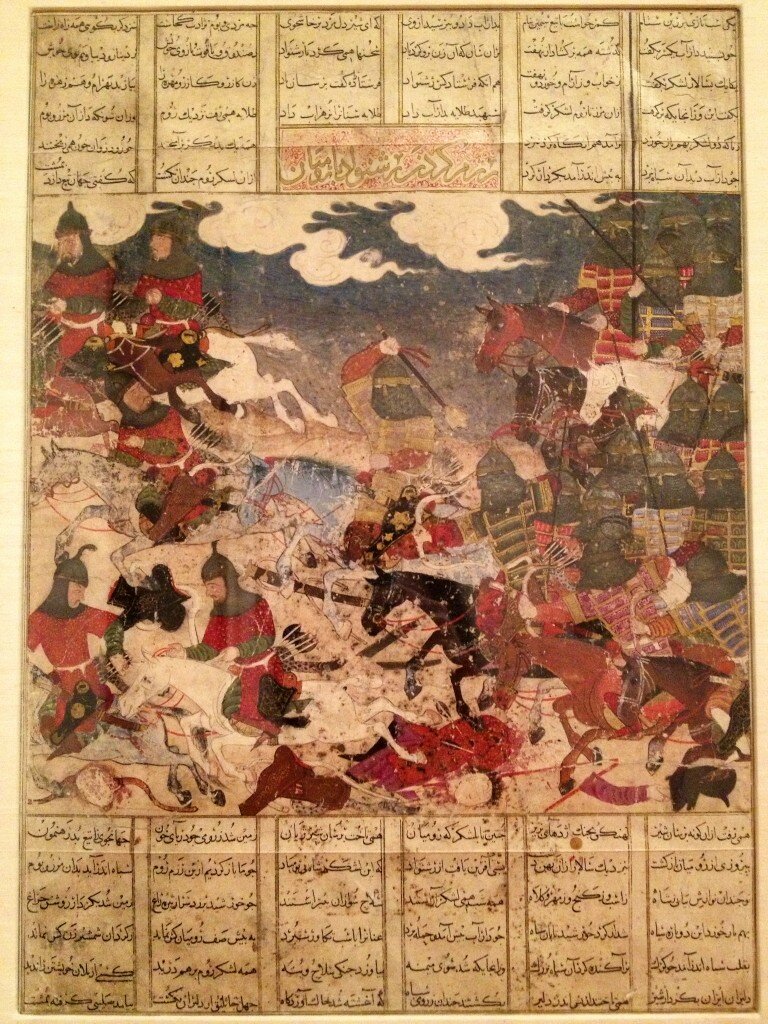 past
from darker days past, in frivolous present light: here is a picture of my mildly haemorrhaged brain
and an apposite Cake which was made by dear friends for my 28th birthday in January, two weeks after the accident. best cake ever. all is well that's mended well.